Detailed Itinerary
Day 1: Arrival In Zagreb
Welcome to Zagreb. Your driver/guide will meet you at the airport. Christmas festivities start in Croatia from 2nd Dec to 7th Jan.
As you enter the city, you will be captivate by the sounds and lights. It will be difficult, if not impossible to check –in to you hotel and not succumb to the magic. Zagreb has performances, workshops, and entertainment planned all over the city. Just walk out of your hotel and get mesmerized
Overnight in Zagreb
Meals: None
DAY 02: Zagreb
Highlight:
Zagreb City Tour &Visit to Christmas markets
It is not a small feat to win the best Christmas market for two successive years –but Zagreb wins this prestigious title as every inch of the city is covered with elaborate decorations, market stalls, and open-air entertainment. The latter seems to be the winning factor; while all of the European destinations with Christmas fairs can muster a certain Christmas spirit, few have anything to match Zagreb's recently revamped programme with live music or DJ sets every day.
There are more than 20 events happening in the city. We give you the 6 best :-
| | |
| --- | --- |
| | The Ice Park - Taking place at king Tomislav Square (Zagreb's main railway station). The entire park is turned into a big ice skating rink featuring many events such as the ice ballet. Around the ice park there are many vendors selling traditional Christmas decorations, mulled wine, sweets and so on |
| | Zrinjevac Square-A few hundred meters away is where Zrinjevac square hosts its own fairytale. Every single tree in the park is decorated with Christmas lights that make for a magical experience. At Zrinjevac you can enjoy in traditional meals such as strudels, strukli, pasta with cabbage and so on. Many boutiques sell uniquely handmade souvenirs that are perfect as Christmas gifts. The central pavilion is a place where all the shows take place, from children's plays to classical and traditional concerts. |
| | Fuliranje or "fooling around" was one of the first and after five years it still is the most original Christmas festivity. There are 2 streets along side each other.Just fool around, and you will feel as if you were on a trip around the world – shops and caterers from all over the world will undoubtedly succeed in bringing you into this mood by ticling your palates. This street is called the Chef's street. The other street is the Disco Street which has an array of pubs and nightclubs. |
| | Zagreb 's Tunnel –The tunnel has been redesigned with lights displays that change the colour of its concrete walls and transform the tunnel into a magical place, deep in the silver fir forest surrounded by ice blocks. A projector will transform the central section of the tunnel into a series of images typical for a Christmas atmosphere, with snow topped forests and icy lakes...this place is sheer magic and loved by children and adults alike. |
| | European Sqaure - Look no further! The European Square pedestrian zone, situated in the very heart of the city, becomes a favorite meeting place for young people during the Christmas season. A rich offer of concerts, attractions and exhibitions – on par with other European cities – makes this place a must-see location for all those looking for a good time. |
| | Christmas Fair - In Bogovićeva street you can find not only wooden cabins where fritule and sweet almonds, and mulled wine, are being made, but also those that hide beautiful handmade souvenirs, scarfs and gloves. The wooden houses abounding in handcrafted souvenirs and Christmas gifts and decorations are interwoven with those exuding the scent of cooked sausages, roasted chestnuts, pastries and cakes, as well as mulled wine. Knitted scarves, hats and gloves are impatiently awaiting their new owners, so that they could keep them warm on cold winter days. For the most breathtaking Christmas Fair atmosphere, just wait until nightfall, when all the handicrafts will be illuminated by the soft glow of Christmas lights. |
DAY 03: Zagreb to Zadar (3 hours distance)
Today after breakfast your driver/guide will take you to the Zadar, Zadar is an ancient Mediterranean port city. The old town, surrounded by walls and towers on a peninsula, with a new, urban part is connected by a bridge, a symbol of the city.In a city with the most beautiful sunset, in a maritime archipelago facing a multitude of islands and islets, which protect the city from the strong winds, enjoy the symphony of the Sea Organ and magical urban light installation Pozdravsuncu [Greeting the Sun] near the new harbour for cruise ships.
Overnight: Zadar
Meals: Breakfast
Highlight:
Plitvice lake national park tour from Zadar
Plitvice Lake
After breakfast, check-out hotel of your hotel and your driver will take you towards Plitvice Lakes National Park.
After approximately1.5 hours of driving you will reach Plitvice Lakes, a specific geological and hydrogeological phenomenon of karst, with 16 bigger and few smaller lakes, gradually lined up, separated by barriers. The cascading waterfalls,the aquamarine virgin lakes surrounded by dense, thick forests have frozen at this time of the year. It still is the most beautiful sight to behold.Plitvice Lakes are a natural phenomenon of a rare and unique beauty. Feast your eyes on one of the most beautiful places in the world! UNESCO has declared it with all rights as the World's natural inheritance.
Overnight: Zagreb
Meals: Breakfast
Highlight:
Uglian Island Tour
Enjoy your breakfast and then explore Croatia's Ugljan Island. It is an island in the archipelago of Zadar. The island was inhabited already in the Stone Age while the two caves hide even older remains. It is called the green island because it is covered with dense bush, pine trees, olive trees, fig trees, vineyards and other Mediterranean vegetation. Like all the seaside places, Ugljan has always been connected to the sea; it has a long fishing tradition and a 2000 year old tradition in olive growing. The north-eastern side of the island is inhabited; the best known places are Kukljica, Preko, Ugljan and Kali while the other side of the island is mostly steep and uninhabited.
Overnight in Zadar
Meals: Breakfast
Highlight
Zadar City Tour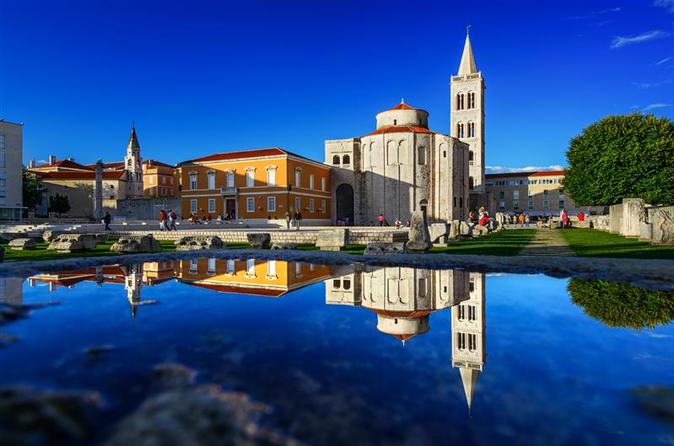 Zadar is an ancient Mediterranean port city. The old town surrounded by walls and towers on a peninsula, with a new, urban part – which is connected by a bridge, a symbol of the city. It is a treasure trove of archaeological treasures and monuments to the ancient, medieval and Renaissance periods. Here you can wander quiet streets of marble, sprawl undisturbed on pine-scented beaches and sail to remote islands, deserted except for tiny konobas – restaurants catering mostly to fishermen. Not only is there a dramatic coastline but Zadar also has a broad hinterland. You start the day by walking around Zadar's historic centre. You can also take part in the Christmas festivities in Zadar which though not in the scale of Zagreb, sstill retains its charm and unique beauty
Expore the Roman forum, Zadar's 12th-century cathedral has three beautiful portals that would not look out of place in Tuscany, and a bell-tower to climb. nd you could also visit the very interesting Gold Museum. Enjoy a romantic evening watching the famous sunsets of Zadar, at a beachside restaurant with the sound of waves and the breeze gently tugging at your hair.
Spend the evening sampling the local fare in Zadar
Overnight: Zadar
Meals: Breakfast
Highlight:
Day Free
After breakfast you can explore Zadar by your own or the day is free for shopping
In the evening we will arrange a Gala Dinner for you for new year's eve
Overnight in Zadar
Meals: Breakfast
DAY 08: Departure Zagreb
After breakfast transfer to airport and proceed with lovely memories.
Meals: Breakfast
ACCOMMODATION:
2 Nights' accommodation in Zagreb
5 Nights' accommodation in Zadar
MEALS:
Daily breakfast except on day 01
TRANSFER:
Private Transfer from Zagreb Airport to Zagreb Hotel
Private Transfer from Zagreb to Zadar
Private Transfer from Zadar Hotel to Zagreb Airport
SIGHTSEEINGS:
Private Zagreb City Tour& Visit Christmas market
Private Plitvice Lake Tour From Zadar
Private Uglian island Tour
Private Zadar Sightseeing Tour
SERVICES EXCLUDED:
City taxes for hotel to be paid to hotel at the time of checkout
International, Internal flights & departure taxes
Personal expenses, tips and gratuities
Travel insurance
Beverage
Other services not mentioned above
Applicable taxes