Detailed Itinerary
DAY 01: Arrival in Zagreb
Zagreb
Welcome to Zagreb you will reach Zagreb by noon. Your driver/guide will meet you in your hotel.
The city of Zagreb, capital of Croatia, on the historic and political threshold between East and West, illustrates both the continental and Mediterranean spirit of the nation it spearheads. Zagreb is the cultural, scientific, economic, political and administrative centre of the Republic of Croatia. In this city, you can easily meet remarkable people, make new friends and enjoy special moments.
You could visit the Indian restaurant for dinner and enjoy the beautiful city
Overnight in Zagreb.
Meals: None
DAY 02: Zagreb to Zadar
Highlight:
Zagreb City Tour & Zadar City Tour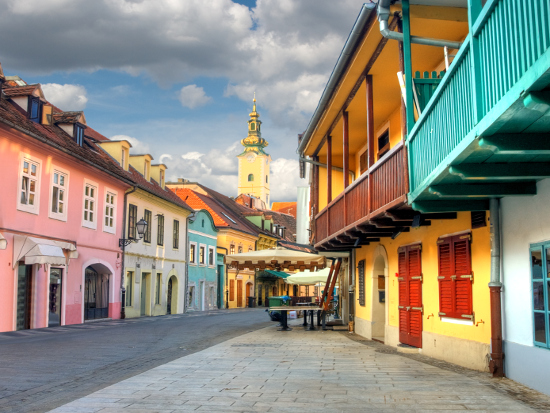 Today after breakfast, your driver/guide will meet you in your hotel lobby at 11:00 am to take you on a tour of Zagreb's historic district. While it has only been the political capital of Croatia since 1991, Zagreb has long been a cultural and artistic confluence of Eastern and Western influences. He will take you to the Upper Town of Gornji Grad where you may begin your tour of the historic heart of Zagreb. The best way to get around the Old Town is on foot.As you enter the Upper Town you see the stunning St. Stephen's Cathedral, the most prominent landmark on the city's skyline. After this is all, you may end the in the central Jelacic square with its colourful cafes and terraces, where you may stop and refresh yourself with beer and the delectable Croatian cuisine. One of the quirky museums that you will visit is the "The Museum of Broken Relationships" where you will see some quirky memorabilia of jilted lovers.
After lunch we will take you to Zadar
Zadar City Tour
Zadar is an ancient Mediterranean port city. The old town surrounded by walls and towers on a peninsula, with a new, urban part – which is connected by a bridge, a symbol of the city. It is a treasure trove of archaeological treasures and monuments to the ancient, medieval and Renaissance periods. Here you can wander quiet streets of marble, sprawl undisturbed on pine-scented beaches and sail to remote islands, deserted except for tiny konobas – restaurants catering mostly to fishermen. Not only is there a dramatic coastline but Zadar also has a broad hinterland.
You start your evening by walking around Zadar's historic centre. If there is a breeze, we start at the sea organ on the promenade, an art installation consisting of a series of pipes cut into the promenade. Here, you can sit on the white stone steps listening to the symphony of nature created by the action of waves on the underwater pipes. The same artist also created the Monument to the Sun, a large disc of solar-powered cells that becomes a multi coloured disco ball as the sun sets.
More classical sights include the Roman forum, of which only a few columns and an altar remain. Stones from here were used to build the neighbouring rotunda of 9th-century St Donat's Church and are clearly visible. Zadar's 12th-century cathedral has three beautiful portals that would not look out of place in Tuscany, and a bell-tower to climb. Close to an impressive city gate, the church of St Simeon contains a beautifully crafted silver reliquary and you could also visit the very interesting Gold Museum.
Enjoy a romantic evening watching the famous sunsets of Zadar, at a beachside restaurant with the sound of waves and the breeze gently tugging at your hair. The ice-creams in Zadar are world famous and we will take you to the oldest and best one in the city (this tab is picked up by us)
Overnight: Zadar
Meals: Breakfast
DAY 03: Zadar
Highlight
Plitvice Lake National park tour from Zadar
After breakfast, check-out hotel of your hotel and your driver will take you towards Plitvice Lakes National Park.
After approximately 1.5 hours of driving you will reach Plitvice Lakes, a specific geological and hydrogeological phenomenon of karst, with 16 bigger and few smaller lakes, gradually lined up, separated by barriers. The cascading waterfalls, the aquamarine virgin lakes surrounded by dense, thick forests… Plitvice Lakes are a natural phenomenon of a rare and unique beauty. Feast your eyes on one of the most beautiful places in the world! UNESCO has declared it with all rights as the World's natural inheritance.
Overnight: Zadar
Meals: Breakfast
DAY 04: Zadar to Split
Highlight:
Evening Split City Tour
Today after breakfast we will take to Split, check in your hotel then our Driver/ guides will take you to Split city tour, they are expert and enthusiastic and will take you to see all of old town Split's ancient treasures from Diocletian's Palace and the Austro-Hungarian architecture to the natural beauty of Marjan Hill, where you will find the perfect setting for a romantic photograph.
Guide will explain the rich history and evolution of the modern city of Split from its pre-Roman foundation, through the Roman and medieval periods to more modern times. He will even tell you about the many good bars and restaurants that operate in Split along the way!
Overnight: Split
Meals: Breakfast
DAY 05: Split to Hvar by ferry
The two-hour long Split- Hvar ferry is the main link between Split and Hvar Island and as such can be quite crowded in the summer. Passengers should have no trouble boarding, but to get a good seat try to arrive at least an hour in advance.
Croatian island of Hvar is the perfect destination for tourists seeking the beauty of Mediterranean beaches without the crowds associated with more well-known destinations. Pathways lined with lavender vines lead to secluded coves, small fishing villages and local vineyards, and ferries and catamarans carry visitors across the calm, blue waters to the surrounding islands, all worthy of exploration.
Overnight in Hvar
Meals: Breakfast
DAY 06: Hvar to Split, proceed to Dubrovnik
Highlight
Dubrovnik City Tour
After breakfast your driver will take you to Split, from there we will proceed to Dubrovnik. Dubrovnik is both a seaport and the centre of the Dubrovnik-Neretva County. Today Dubrovnik is the proudest feather in Croatia's tourist cap, an elite destination and one of the most beautiful towns in the Mediterranean.
The view of the sunlit Old Town of Dubrovnik is a great opportunity for an unforgettable photo in your album! Take a walk along its cobbled streets in the company of a professional guide whilst discovering treasures of Dubrovnik's past and present. Put your hands on its ancient walls and let the distant presence of people who had lived there centuries ago come close and touch you. This tour will leave you mesmerized by architectural treasures, artistic intensity and cultural opulence – a day that will most certainly become one of your favourite holiday experiences ever. Please wear flat shoes, bring a hat and use sun protection essentials.
Overnight: Dubrovnik
Meals: Breakfast
DAY 07: Dubrovnik to Montenegro
After breakfast we will take you to Montenegro, after crossing the border to Montenegro, twist and turn with the road, going around the large Bay of Kotor, and passing through charming villages along the way.
Bursting at the seams with majestic mountains, breath-taking beaches and larger-than-life locals, minuscule Montenegro proves once and for all that good things do indeed come in small packages.
For a country that you could drive across in a day, you will be amazed at just how alluring Montenegro ('Black Mountain') is. With its three contrasting southern, central and northern regions, you can look forward to a striking range of landscapes, climates and activities. Few places in the world can give you picturesque beaches, lakes, mountains, valleys, canyons, caves, tranquil countryside and ancient towns
Overnight: Montenegro (Kotor)
Meals: Breakfast
DAY 08: Depart
Gather your memories of tour and head on to airport for your return Journey.
Meals: Breakfast